As the temperatures rise, its natural inclination is to seek refuge in a cozy outdoor space. However, if you're looking for an exhilarating beverage pairing with your al fresco dining experience, it's essential to have just the right on-premise beverage available!
If you're searching for the ideal summertime beverage that will captivate your guests' palates and provide them with thirst-quenching refreshments, then look no further than these mouth-watering options!
For those seeking a refreshingly cool treat that pairs exceptionally well with crispy bar snacks, try out one of the many craft sodas on offer. From fruity flavors such as pineapple and watermelon to tart ones such as lime – this selection has something for everyone! If you prefer more robust flavors and bold tastes, then choose from stronger varieties such as cherry or even rootbeer – all bursting with flavor!
With thirst-quenching cocktails being at the forefront of today's on-premise trends, discover some of our favorite refreshing drinks which are sure to please even the most discerning palate. From classic mojitos and tropical pina coladas inspired by warmer climates to backyard barbecuing juleps and sangria parties – there's something for everyone!
Sparkling Wine Coolers
Summertime can be sweltering, so why not get in the mood with a refreshing beverage? From sparklers to still wines and more – there's a plethora of sparkling options out there for you to pick from! Whether you prefer a crisp and bubbly Prosecco or a delicate and elegant Champagne, sparkling wine coolers are the perfect choice for those hot summer days. These effervescent beauties not only offer a refreshing respite from the heat but also add a touch of sophistication to any gathering.
If you're feeling adventurous, why not try some unique twists on classic cocktails? A refreshing watermelon margarita or a tangy raspberry mojito can elevate your outdoor dining experience to new heights. For those who enjoy a little spice, a jalapeno-infused tequila sunrise or a ginger-infused Moscow mule can provide that extra kick.
Don't forget about the non-alcoholic options! Mocktails are all the rage these days, offering all the flavor and flair of their alcoholic counterparts without the buzz. From virgin pina coladas to alcohol-free spritzers, there are plenty of delicious choices for those who prefer to skip the alcohol.
So get ready to sip and sizzle this summer with these tantalizing on-premise beverages. With their refreshing flavors and thirst-quenching qualities, they are sure to be a hit at any gathering. Cheers to making lasting memories under the sun!
Grapefruit Sparkling Water
If you're seeking a refreshing beverage that's ideal for thirst-squelching heat, look no further than grapefruit sparkling water! It's a low-alcohol alternative that can be enjoyed in place of wine or beer when being social.
The juice is readily available at most supermarkets and specialty retailers. When selecting your bottle, keep an eye out for labels like "handcrafted" or "contemporary twist on classic flavors". You may find that the bottles have been crafted from scratch or infused with some savory ingredients to create a unique taste experience!
If there's anything that brings about dancing feet, it must be this delectable citrus concoction. Many people rave about its crispness, tanginess, and overall balance – so fans of bubbly beverages will certainly appreciate this healthier alternative!
Sparkling Lemonade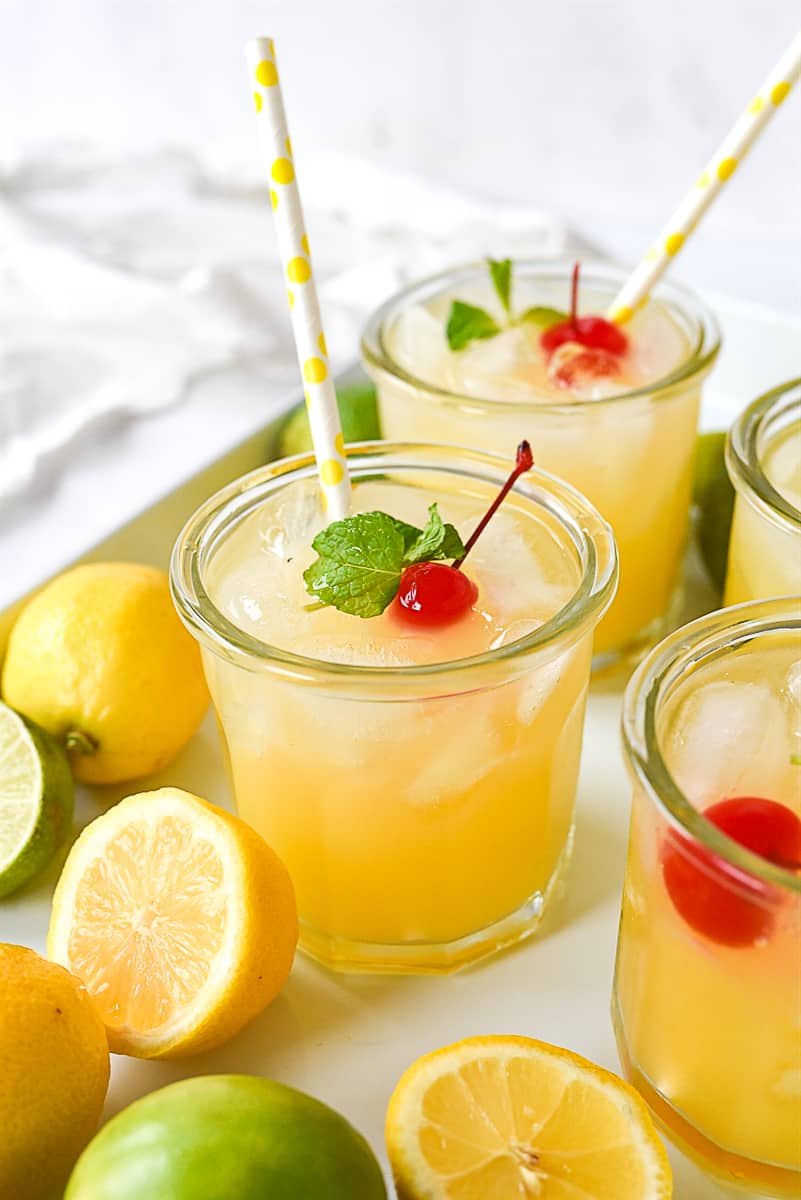 Our very own Bianca Muñoz, our resident culinary expert and founder of Lemonade Sweetness, is sharing with us the liquid counterpart to this refreshing summertime beverage – sparkling lemonade!
At first glance, sparkling lemonade may seem like an unusual flavor addition to your menu. But, you could be making a minted fortune if you decide that now is the ideal time to introduce it into your repertoire. This bubbly beverage, as its name suggests, really shines in providing an unforgettable experience for patrons!
With such an array of flavors available – from your traditional lemon-lime to fruits such as strawberries or raspberries – creating a custom blend for optimal results isn't difficult at all.
Through innovative blending techniques and adding additional ingredients such as herbs and flowers into their mix, bartenders can craft cocktails with a completely unique taste profile that will leave guests clamoring for more when they're done sampling them!
Hibiscus Sparkling Water
Hibiscus, the quintessential summertime flavor, is showcased in this effervescent beverage.
Providing a tantalizing taste sensation crafted using hibiscus flowers, this bubbly libation is sure to captivate and excite anyone who takes a sip!
Ideal for spiking your sangria, adding a splash of this floral elixir to sparkling water or accompanying an ice cream sundae with this vibrant pink froth all make for memorable experiences.
Coconut-Lime Sparkling Water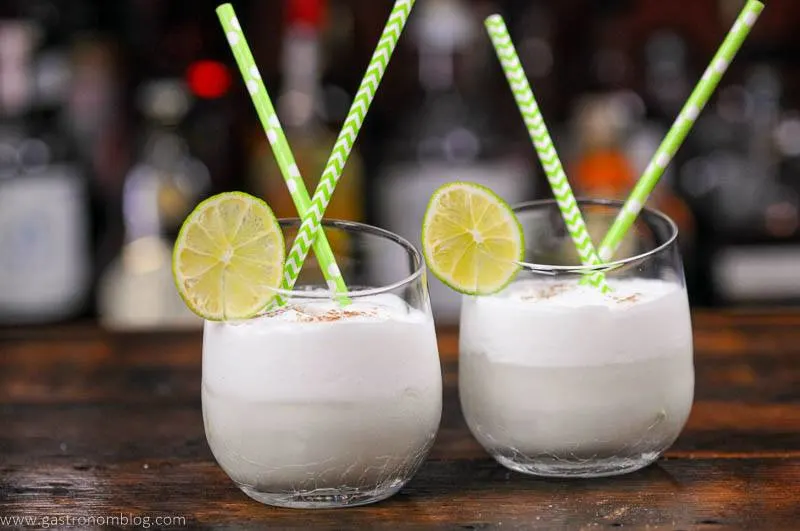 Sparkling water is all the rage right now, and in recent years it has been transformed into a vibrant beverage option. Coconut-lime sparkling waters are one such offering, offering an exciting twist on this trendy trend!
With a refreshingly invigorating array of flavors, you can conveniently kick back and enjoy any of them while savoring this luscious concoction.
One sip and it's obvious that this delicately flavored sparkling beverage offers a taste sensation unlike any other – its succulent flavor is reminiscent of lychee fruit! It boasts a scrumptiously sweet aroma that brings to mind those pineapple candies or even fresh mangoes; it leaves an aftertaste reminiscent of citrus fruits for anyone who enjoys sipping their drinks slowly.
Flavored Sparkling Wines
Sparkling wine is an ostentatious choice for any occasion, but with the introduction of seasonal flavors like mango and dragonfruit, it's no longer just about being outwardly festive.
The refreshing flavor of sparkling wine pairs excellently with food, making it a versatile beverage that can be added to many dishes from light salads to hearty meals alike. Try adding some zesty flavor to meatballs or seafood quesadillas; vanilla & mint caviar in spring rolls or savory shrimp tacos – all without sacrificing any of its inherent elegance!
Unlock the power of sparkler with the addition of a dash of imagination. Whether you're pairing white wine with fish tacos or champagne with pate en croute, there are countless possibilities for creating memorable culinary experiences!
Citrus-Infused Beers and Hard Ciders
This summertime trend, which has been popular for quite some time, is giving some of your favorite beer and cider ingredients new life. From citrus zest to pineapple juice, these flavors will add an unexpected twist to your usual brews!
In addition to being a delicious pairing with meals, the refreshingness of citrus-infused beers pairs perfectly with food al fresco. Take advantage of its aromatic nature as it enhances both sweet and savory dishes alike. Explore this trend by adding a slice of orange in your drinks!
Zesty
Deliciously zesty, Zesty is a refreshing blend of champagne and orange liqueur that comes in a delightful can-like container. The distinct combination of tastes makes this beverage both delicious and delightfully thirst-quenching!
From the moment I took my first sip, I was immediately captivated by the bright citrus flavor balanced with bubbles of effervescent champagne. This tasty offering is sure to become your go-to drink on a hot summer's day!
Sparkling Soft drinks and Seltzers
If you're looking for a refreshing beverage to serve at your next event or summertime gathering, consider pairing sparkling soda with some of the following culinary creations.
Our Sweet Italian Soda is a light frothy delight that pairs perfectly with desserts like ice cream sundaes and milkshakes! Featuring candied fruits such as cherries and raspberries, alongside an abundance of velvety chocolate syrup and crunchy caramel bits; this beverage offers an unforgettable experience!
Honey-and-Beeswax Sparkling Honeycomb Ice Pods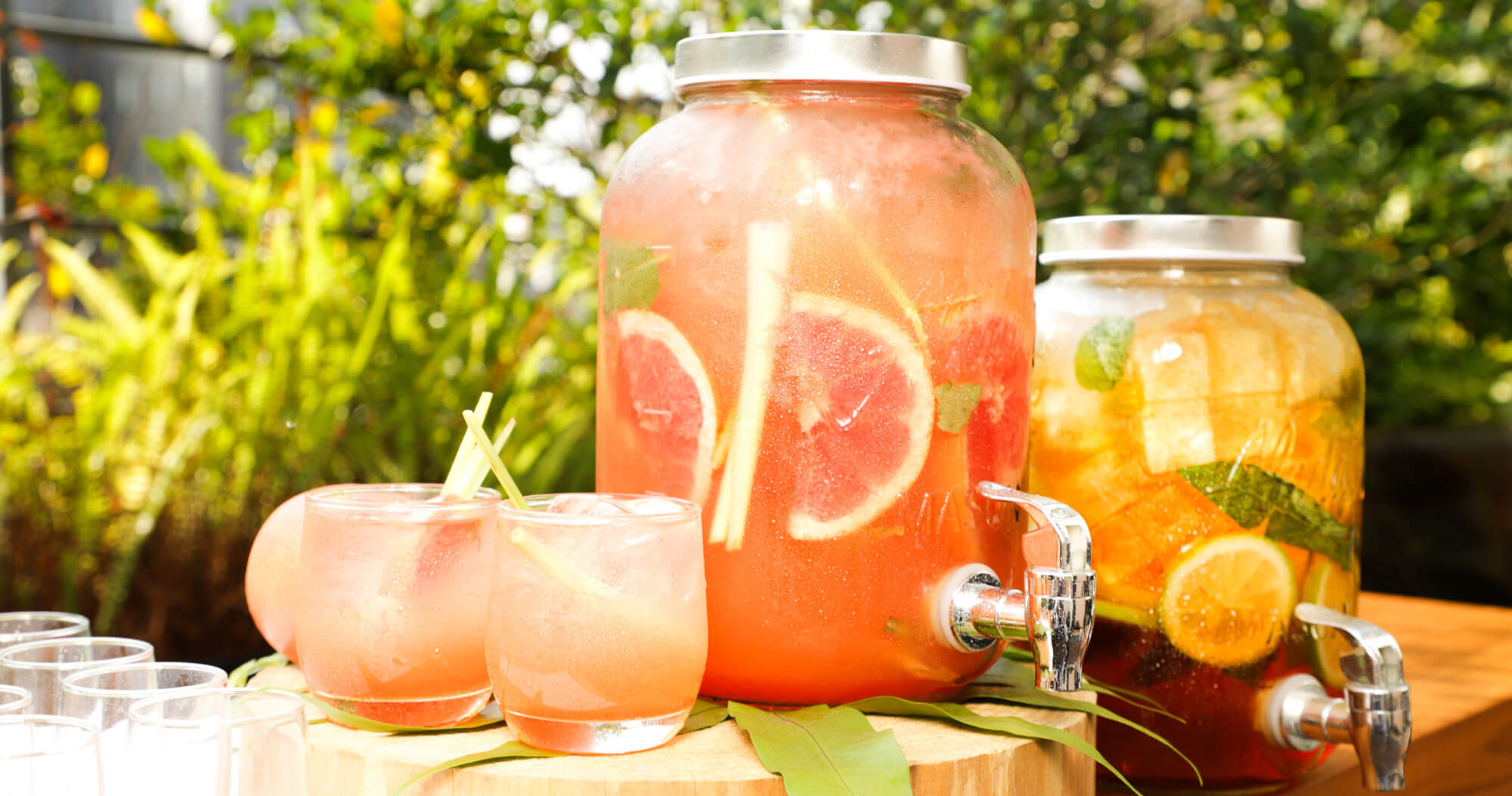 If you're seeking a subtle after-dinner beverage, these Honey and Beeswax Sparkling Ice Pods are sure to please. Each pod is comprised of an atomizer filled with sparkling wine, honey syrup, and beeswax crystals for an enchanting burst of flavor – all packed within an elegant design that provides a chic ambiance when tapped against the lips.
Honey is a staple in any cook's arsenal, so it's no surprise that its inclusion in this iced beverage is noteworthy! The delicate sweetness of this ingredient adds complexity to its already sublimely tasty wine while ensuring that each sip remains invigoratingly zesty; perfect for those looking for a refreshing alternative on hot summer days!
This delightfully effervescent and remarkably versatile beverage can be enjoyed during or after dinner, or even taken on the go as an ideal pick-me-up. It's also deliciously tart and refreshing – just what one craves when summertime temperatures rise!
Strawberry-and-Raspberry Sparkling Wine Cocktails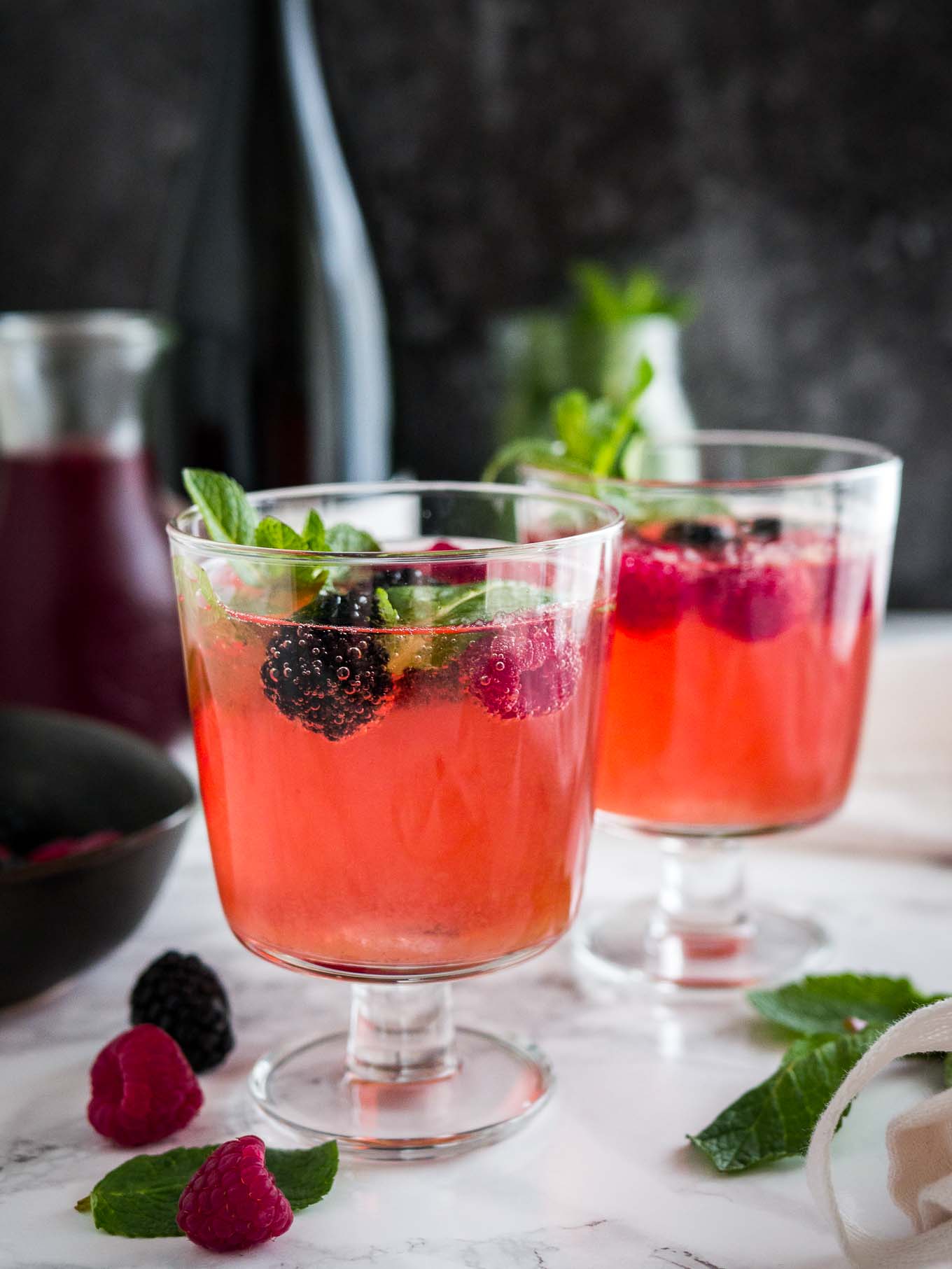 Discover the go-to beverage for a summertime celebration; sparkling wine. With its effervescent taste and bubbly success, this versatile liquor has limitless possibilities when paired with refreshing fruit flavors such as strawberries and raspberries.
To create these fresh take-ups on strawberry-and-raspberry Sparkling Wine Cocktails, simply combine equal portions of each in a pitcher.
Then, strain out any debris using a fine mesh strainer before topping off with chilled seltzer water for an ideal blend. Finally, to complete the final product's presentation-enhancing flavor profile swap out your regular wine glasses for some fun sushi inspiration cups for an eye-catching twist!
Conclusion
In times like these, it's imperative that you keep your patrons happy – and there's no better way to do so than by offering them some of the most sought-after on-premise beverages! By providing a wide selection of options, you can ensure that they'll return time and again to enjoy your establishment's offerings. Keep your beverage menu fresh and exciting by incorporating these hot on-premise beverages this summer. Whether you're a fan of zesty flavors, citrus-infused beers, sparkling soft drinks, or sparkling wine cocktails, there is something for everyone to enjoy.
Incorporating these on-premise beverages will surely keep your patrons coming back for more. With their unique flavors and refreshing qualities, they are perfect companions for summertime celebrations. So get ready to sip and sizzle with these hot beverage trends!